It's been really hot lately, even so up here in the Pacific Northwest. With the high temps, motivation to work out has been difficult. My workout space is either in the garage or in the driveway. The garage is steamy during the day and the driveway is full sun until later in the afternoon, but even then its still been in the 90's at that time of day. Lately I've been riding my bike more except for today, there was a bit of cloud cover and temps hadn't made to mid 70's yet so I got in a quick little EMOM (every minute on the minute).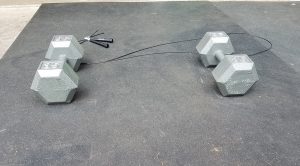 12 Minute EMOM
40 Double Unders
10 DB Front Squats #35s
10 DB Push Press #35s
Repeat 4xs through
This one was short and sweet. I got my heart rate up and moved a little weight. I went with the #35s because, as I mentioned earlier, I haven't been working as much as I usually do.  I capped the session off with a delicious fried rice that included leftover grilled / roasted vegetables (zucchini, bell pepper, mushrooms and onions).