One of my new favorite breakfasts is fried rice. We make a pot of rice almost every night with dinner, so I've gotten into the habit of using the leftover, day old rice to make fried rice for breakfast. It has vegetables, eggs, pork, rice and a health fat (avocado oil). The great thing is that you can add whatever veggies you want; peas, carrots, onion, broccoli, cauliflower, spinach, bell pepper, mushrooms, collard greens, green beans, radish pods… whatever you have on hand.
Although I usually make this for breakfast, you can make this easy dish for lunch or dinner as well. You can even double or triple the recipe on your food prep day for a healthy easy grab and go meal.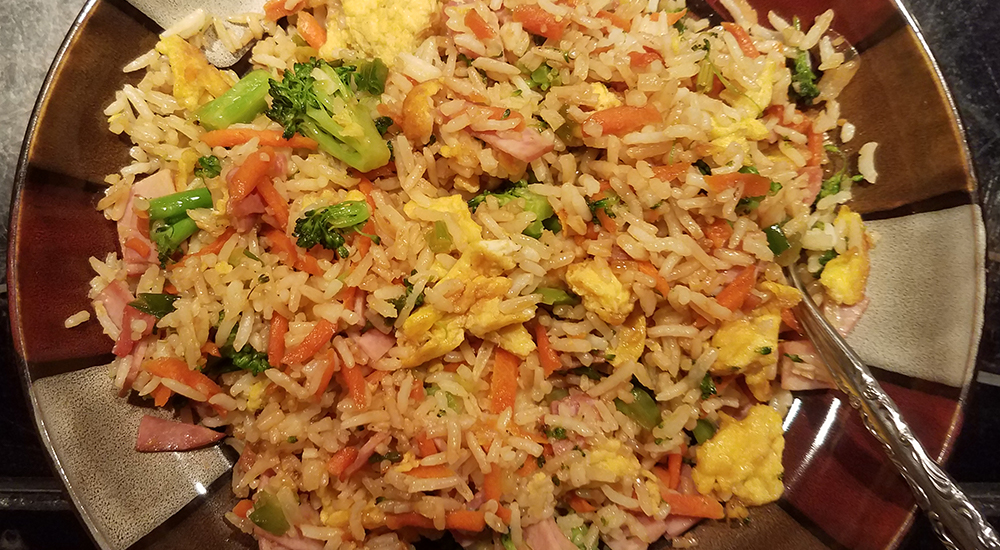 Traditional fried rice usually includes day old rice, peas, carrots, green onion, soy sauce, salt, pepper, egg, shrimp and/or pork and sesame oil. I typically use carrots, broccoli and onion for the veggies and substitute Bragg's Aminos in place of the soy sauce. For the pork (optional) use bacon crumbles or some uncured black forest ham (my favorite is Applegate).  I also use a combination (2:1) of avocado oil and sesame oil. Avocado oil is healthier but I still want some of that sesame flavor which is why I use a combination.
Ingredient List for Fried Rice
2 tbsp avocado oil (divided)
1 tbsp sesame oil (divided)
2 eggs
2 cups cooked rice (day old is best)
1/4 cup diced onion (yellow or green)
1 cup broccoli florets (small pieces)
1 carrot peeled and shredded
3 strips bacon (cooked and crumbled) or 2 sliced uncured black forest ham diced (optional)
2 tbsp soy sauce or Bragg's Aminos
Salt and pepper to taste
Fried Rice Cooking Instructions

1. If you are using bacon, cook, crumble and set aside.
2. Time to cook the eggs. Heat half of the avocado and sesame oils over medium heat. Whisk eggs together in bowl. Cook eggs and scramble into small curds, usually only takes a couple of minutes. When done, transfer to a bowl and set aside.
3. Next, teat second half of the avocado and sesame oils over medium-high heat. Once oil is to temp, add the onion and broccoli (stirring occasionally), cook till broccoli is al dente (cooked, but slightly firm), add carrots and cook for another minute or so.
4. Once veggies are cooked, combine the cooked rice and blend  thoroughly.
5. Add scrambled eggs and pork into the rice veggie mixture, again  combine thoroughly.
6. Drizzle soy sauce over mixture, salt, pepper and mix together.
7. Remove from heat and serve. Add additional salt, pepper and soy sauce to taste.