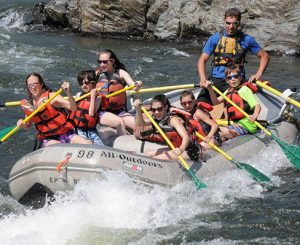 Hi, I'm Sammy, and welcome. I'm a certified Precision Nutrition L1 coach and a CrossFit L1 coach.
Throughout my life, I've always loved food and sports. Growing up, I spent as much time in the kitchen with my mom as I did playing soccer, basketball and other sports. When I was 15 I started cooking at a small family owned Italian restaurant just outside of Chicago. That led me to culinary school straight out of high school.
At a certain point I decided I needed a change which lead me to the outdoors. This is where I really learned the value of food, eating well to fuel my body for the vigorous adventures I took part in like backpacking, rock climbing / mountaineering, mountain biking and whitewater rafting. I eventually got a degree in Health Education with in an emphasis in Outdoor Recreation
In 2004 my outdoor adventures, which doubled as my exercise and self-care time, took a back seat when my first wife and I started a family. At that time I found myself behind a screen doing website design for living, working long hours and not moving my body much. I still loved cooking and ate well but something was missing. It wasn't until 2010 that I found CrossFit and started paying more attention to my health. After doing CrossFit for a few years I realized this was the direction I wanted my life to go so I got my CFL1 in the spring of 2017, followed by Crossfit Kids cert later that fall. I eventually got my nutrition coaching certification through Precision Nutrition because I realized that food and nutrition is at the heart of everything. Its the foundation.
Living healthy doesn't have to be restrictive and eating healthy doesn't have to be bland. My goal is help people feel good, fuel their bodies with amazing foods, and live the best version of themselves.