Breakfast is one of my favorite meals of the day. One of my go-to meals is my Ultimate Breakfast Sandwich; It has eggs, bacon, cheese, avocado, lettuce and tomato.
Ingredients List: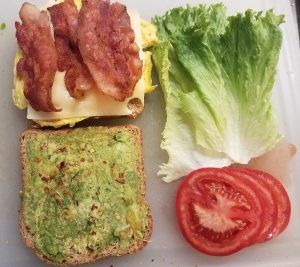 2 slices sprouted grain bread
1/4 of avocado
2 eggs
2 strips uncured bacon
hot sauce of choice (optional – I use Tapatio)
2-3 Slices tomato
A leaf or 2 lettuce
slice of cheese of choice (swiss or pepper jack work well)
1 tsp avocado mayonnaise
red pepper flakes
salt and pepper to taste
Cooking Directions:
1. In a cast iron skillet or heavy pan, cook the bacon over medium heat to your desired crispness, turning every few minutes.
2. While the bacon is cooking, prep you avocado, rinse a leaf or two of lettuce and slice your tomato.
3. Beat two eggs in a bowl with a sprinkle of salt, fresh ground black pepper and a splash or of two hot sauce (optional).
4. Once bacon is done, discard most of the bacon grease, reserving a tablespoon or two to cook the eggs. I use a cast iron pan so I remove from the heat and let cool for a few minutes before cooking the egg.
5. Return the pan to low heat, cook the eggs while the bread is toasting. Once the eggs are cooked I remove from heat add the slice of cheese and cover while prepping the toast. This keeps the eggs warm and allows the cheese to melt without browning the eggs.
6. On one slice of bread, spread the mayonnaise. Spread the avocado on the other slice and sprinkle with red pepper flakes, salt and a turn or two of fresh ground black pepper.
7. Assemble the sandwich how ever you like. I put the egg on the slice with the mayonnaise and top with the avocado toast. Place the bacon on the top of the eggs, add lettuce and tomato.
8. Enjoy
Variations:
If I've have a hard workout on the books for the day I will sometimes substitute a sprouted everything bagel in space of the sprouted bread. Sometimes in a hurry and don't have to cook bacon, so I'll use a slice of uncured black forest ham. I have at times sauteed up some chopped spinach and cook into the eggs.