This is very simple pork tenderloin marinade and comes together in less than 10 minutes.
Ingredients: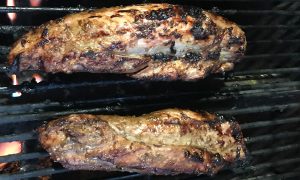 3 Tbsp Balsamic
3 Tbsp Olive Oil
1 Tbsp Fresh rosemary
1 Tbsp Dijon
3 cloves finely chopped garlic
Pinch of Salt
2-4 turns of fresh ground pepper
Cooking Directions:
1. Combine all of the marinade ingredients into a medium sized contain with lid and mix together with a whisk or fork. Once combined add the pork tenderloin making sure it is thoroughly coated. Cover with lid and refrigerate for 60 minutes or overnight.
2. Preheat grill to 350F. Place the pork tenderloin on the grill, turning every 5-7 minutes. Total cook time should be 20-25 minutes depending on how thick the meat is. Using an instant read thermometer, the pork is done once the internal temp is 145F. Remove from grill, place on a plate, cover and let it rest for 10 minutes before slicing.